Titanic artefacts fetch six-figure sum at Wiltshire auction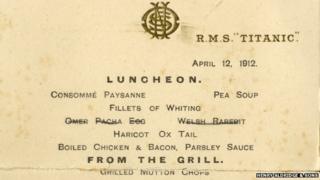 Rare items from the Titanic have sold for a "substantial" six-figure sum at auction.
A menu from the ship's first-class restaurant sold for £60,000 and a small locker key went for £62,000 at the sale in Devizes, Wiltshire.
Auctioneer Andrew Aldridge said the sale attracted interest from bidders across the world.
"There was competition for the rarest pieces as people want to own the best items," he said.
More than 250 artefacts went under the hammer at Henry Aldridge & Son.
The menu was part of the Lurette Collection - a series of items once owned by maid Elise Lurette - which sold for a total of £100,000.
French-born Ms Lurette was one of about 700 people who survived when the passenger liner hit an iceberg on its maiden voyage on 14 April 1912, killing more than 1,500.
In her coat pocket was a menu, dated April 12, listing foods such as mutton chops, Melton Mowbray pie and tapioca pudding.
'Unheard of'
A deck plan used by Ms Lurette to help find her way to a lifeboat was sold for £33,000, almost double its guide price.
Mr Aldridge said having the menu and the deck plan was "unheard of" and that the auction made a "substantial six-figure sum".
A letter by engineer Joseph Bell describing how the Titanic almost hit two other liners as it left Southampton docks sold for £24,000 and a tiny locker key owned by Southampton man Sidney Sedunary fetched £62,000.
Mr Sedunary's body was later recovered and his possessions, including his pocket watch and keys to his cabin - number 45 on E deck - were sent to his pregnant wife Madge.
"The items have some amazing stories behind them," added Mr Aldridge.
"When you see the items it brings passengers' stories to life."