Fatal Blunsdon fire caused by 'petrol on woodburner'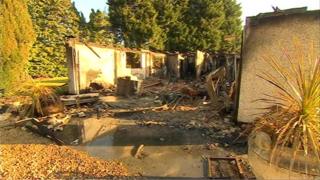 A woman who died in a house fire in Wiltshire is thought to have poured petrol onto an outdoor woodburner inside her home, the fire service said.
The body of the woman, in her late fifties, was found by crews at the house in Turnpike Road, Blunsdon.
Fire investigator Kathy Collis said the woodburner was in a converted garage used as an entertainment room.
The victim is believed to have added fuel to it "to make it burn out more quickly" when the family went to bed.
"But this caused a massive blaze which, tragically, led to her losing her life," Ms Collis said.
The room was destroyed in the fire, shortly after 00:30 BST on Friday.
Ms Collis urged people to be cautious when using any kind of open fire or woodburner.
She said: "With the winter fast approaching, and Bonfire Night just a few weeks away, it is vital that everyone takes extra care when dealing with fire.
"It only takes a tiny amount of petrol to cause a fireball, so please don't be tempted to use it as an accelerant."