Stonehenge rat-run campaigners 'optimistic'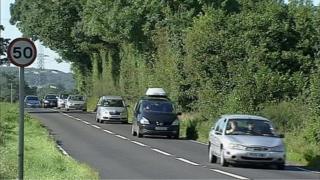 Campaigners whose villages are being used as cut-throughs since the main road past Stonehenge was closed, say they are optimistic of a solution.
The A344 next to the stone circle was shut in 2013 as part of a scheme to restore the monument's "dignity".
People say traffic has increased since the road layout was changed, due to drivers avoiding jams on the A303.
A feasibility study is under way to consider various options, including making part of it a dual carriageway.
The worst affected villages are reported to have been Bulford, Shrewton and Winterbourne Stoke, since the A344 was closed and restored to grass.
Janice Hassett from the Stonehenge Traffic Action Group (Stag) said she was optimistic the A303 would be improved.
"We're feeling quite positive," she said. "We had a letter from Wiltshire Council to say the money is there.
"The government has money to spend on it and it looks like they're prepared to spend money on it.
"We need this to happen. The A344 should never have been closed before they did something about the A303.
"The rat-running is horrendous. They're speeding through our villages."
Ms Hassett said a petition calling for urgent action to be taken now had more than 2,500 signatures.
A survey into traffic levels on surrounding roads was launched in August.
The government is due to publish a shortlist of major road schemes that could receive funding, before the end of the year.