Avebury circle 'had more stones'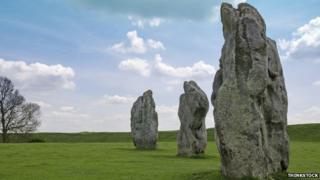 Evidence has emerged that one of Avebury's Neolithic stone circles originally had one more stone than previously thought.
A study by researcher David Furlong found there were likely to have been 30 stones in the southern inner circle.
Only five remain in the ring, which is one of three circles at the site. Research carried out in the 1960s had suggested there were originally 29.
The site at Avebury is one of the largest prehistoric sites in Britain.
Mr Furlong came to the conclusion after studying 18th Century documents and carrying out geophysical surveys at the monument, which was built between about 2850 BC and 2200 BC.
He said: "In the 1720s the antiquarian William Stukeley visited Avebury and recorded a lot of the stones that existed, and stones which he knew had been destroyed within his lifetime.
"Stukeley maintained there were 30 stones in the ring, but subsequent research [in the 1960s] suggested there may only be 29."
Mr Furlong said the study had reassessed Stukeley's original findings and used modern geophysical studies,
"Twenty-nine stones would make it rather anomalous because there are few other known circles with 29.
"But there are quite a number of stone circles with 30 stones in the ring, most notably Stonehenge itself, and also Stanton Drew [in Somerset].
He said there was also a suggestion the circle may be related to a lunar cycle.
"There is a clear north/south orientation in the ring, which was not known before, and it would appear that the stones which do exist, and the known stone holes, indicate the stones seem to be paired on either side of a north/south axis.
"It's just possible... that some form of astronomical pattern might be involved.
"If you watch a star coming up on the eastern horizon and then watch where it sets on the western horizon that could mark two sides of this symmetrical axis."
Most of the southern inner circle was destroyed to make way for houses in the 1700s and 1800s.
Mr Furlong's findings have been submitted in a report to English Heritage and the National Trust.
He will present his evidence at a convention of Alternative Archaeology in Pewsey on Sunday.