Taunton-Castle Cary railway line closed for flood work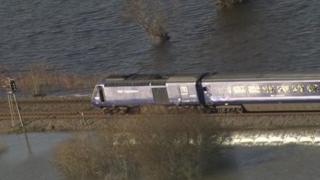 The railway line between Taunton and Castle Cary has closed for two weeks to enable strengthening flood protection work to be carried out.
Network Rail is working on an area of track which was badly affected by heavy rainfall in February.
Rail services will still operate between London Paddington and Castle Cary, and between Taunton and Penzance.
London services that would normally pass through the affected area will be diverted via Bristol.
Work is expected to be completed by Friday 16 October.