Wanted: Wiltshire grandparents for Finnish family to adopt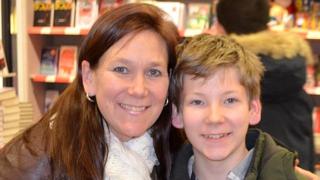 Wanted: A Wiltshire granny for a Finnish family to adopt, who can bake scones, exchange Christmas cards and "create lovely memories".
The unusual appeal to recruit UK-based grandparents had been made by Jody Merelle, a single-mother living in Finland.
Brought up in the UK, Mrs Merelle was taken each year to Finland by her Finnish mother to visit family and "keep in touch" with her roots.
But since the death of her parents, the family has "no one to visit" in the UK, so Mrs Merelle has decided to recruit "some family" for her children to keep in touch with.
"There might be a couple who don't have children of their own or do, and would like some extra ones from Finland," she said.
"We're not asking for money or presents or a place to stay, but it would be lovely to have people that we could adopt as family and to whom they [her children] feel important."
With distance and family breakdowns keeping children and their grandparents apart, Mrs Merelle is not the only one in the market for a new nana and granddad.
In Germany, an agency which links up young families with older volunteer 'grandparents' has nearly 500 retired 50 to 70 year olds on its books.
Despite its large supply of volunteer 'grandparents', it is still struggling to meet the demand of a further 750 families looking to borrow some.
In this country, however, desperate parents are resorting to advertising on message boards such as Mumsnet and Netmums in their hunt for a "local granny".
While wannabe grandparents with "loads of time" on their hands are posting their availability for a child wanting a "granny in their lives" on Gransnet.
Sam Smethers, from the charity Grandparents Plus, thinks a scheme matching up "grans with fams could be really positive" for both.
"Grandparents play a vital role in family life and the emotional support they provide is invaluable," she said.
"And there are many isolated older people out there who would welcome the chance to have a grandparenting relationship."
'Fit in nicely'
Back in Wiltshire, Mrs Merelle and her family have met prospective grandparents Jenny and John Jobbins-More from Chippenham, who already have eight grandchildren of their own.
"We're a very close-knit family but Jody sounded as if she would fit in nicely with our little brood," said Mrs Jobbins-More.
"A grandparent, for somebody who hasn't got any is very important I think, so if I can help that would be fine.
"As for making scones, I'm not that good but I do a brilliant Key Lime Pie, cheesecakes and bread and butter pudding."