Melksham couple in six month wait for repairs to lighting-hit home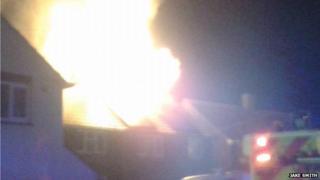 A Wiltshire couple have been told it will be at least six months until they are able to return to their house after its roof was destroyed by lightning.
Terry and Sylvia Cook, from Melksham, were on holiday in Greece when they were told their home was alight and the roof had caved in.
They are now living in a hotel while they wait for assessors to arrive before repairs can start.
Much of southern England was affected by heavy rain on 18 September.
Lightning also struck across Bristol and in Wiltshire, Dorset and Devon homes were damaged.
Ninety people were also rescued from a train near Corsham after it became trapped in flood water.
The Cooks have been told they can not go back into the main body of the house because it is too dangerous but this week they were allowed go into the conservatory, which was not damaged.
"I'm amazed the conservatory survived," Mrs Cook said.
"I just assumed that the [falling] tiles would have made holes in the roof but the firemen knew it was safe and put stuff from downstairs in there.
"We're very very grateful to them."