Swindon woman charged with murder of Michael Redpath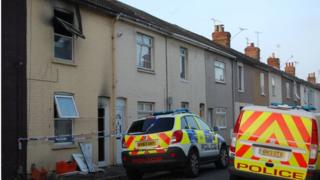 A 29-year-old woman has been charged with the murder of a man who was pulled from a burning house in Swindon.
Michael Redpath, 62, was taken to hospital but died as a result of smoke inhalation and burn injuries.
Patricia Louise Hindle, of Crombey Street, Swindon, was due to appear before the town's magistrates court on Saturday.
The fire in Albion Street started on Wednesday evening. The cause of the blaze is still being investigated.
The case was adjourned to 16 of September when Ms Hindle is due to appear before Bristol Crown Court by video link.