Marilyn Monroe rare negative to be auctioned in Devizes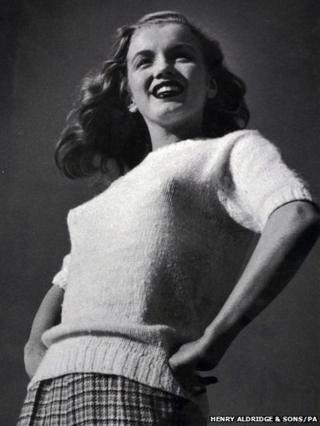 A rare negative of the movie star Marilyn Monroe taken during her first professional photoshoot when she was 20 years old, is set to be auctioned off.
The photograph was taken when the unknown Norma Jeane Baker was a factory girl aspiring to become a model.
Auctioneer Andrew Aldridge said the photo was "a unique glimpse" into her early career made even more valuable as the copyright was being sold with it.
The sale takes place at Henry Aldridge and Sons on 20 September in Devizes.
The image and copyright is estimated to fetch between £5,000 and £8,000.
In 1946, Norma Jeane was working at a munitions factory when a passing military government photographer told her she could be a model.
She approached a Hollywood modelling agency, Blue Book, and aspiring photographer Joseph Jasgur was assigned to get her first portfolio.
"He first photographed her on a small street in West Hollywood behind Beverly Boulevard and over the next few weeks he photographed her on top of Don Lee Towers, above the Hollywood sign and at Zuma Beach, where this image was taken," added Mr Aldridge.
The pictures made Jasgur famous and helped create a star in Norma Jeane.