Wiltshire wheelbeero race 'falls foul of speed drinking laws'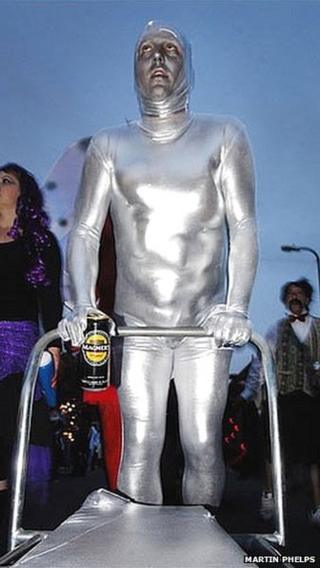 Organisers of a 'wheelbeero' race in Wiltshire have had to amend their rules to avoid anti-binge drinking laws.
Racers in Pewsey Carnival's four-legged and wheel barrow events used to be able to stop en-route for beer or wine.
But this year teams wanting to "compete at speed" will have to run the course against the clock without alcohol.
Bernie Bradshaw, one of the organisers, said: "There will be beer and wine but teams who want to be timed running the course, cannot drink alcohol."
The annual event, which sees up to 200 fancy dress teams racing around the village in wheel barrows or tied at the ankle, with stops at several pubs, has been held in Pewsey for the past 33 years.
But the Licensing Act 2003, amended in 2009, forbids games that require people to "drink a quantity of alcohol within a time limit".
Under the act, those who breach the licensing conditions can face fines of up to £20,000 or up to six months imprisonment.
'Ancient rites'
So this year, only teams "taking part for the fun of it" will be able to "drink a quantity" of wine or beer along the route.
"The main issue was if we bring together alcohol and the word 'race' then we fall foul of speed drinking laws," said Mr Bradshaw.
"We took some legal advice and went back to ancient rites but there's no way around it.
"Last year we had 237 entries into the wheelbeero event and we reckon that 231 of them weren't racing - so they can consume beer and go around just as they always have done."