Westbury sailing club gets new boathouse after £100,000 fire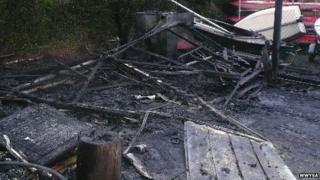 A sailing club has reopened its restored boathouse, four months after an arson attack destroyed the building and caused £100,000 worth of damage.
The West Wiltshire Youth Sailing Association building in Station Road, Westbury, was set alight in the early hours of 24 April.
At the time, Wiltshire Fire said equipment was also stolen and boats stored nearby were damaged.
Volunteer senior instructor Leon Ward, said members were "really excited".
"[We all] want to get back on the water," he added.
"I think the worry was that we'd lose kids. That kids would go off an do other things and they would not come back to sailing.
"Hence us moving to Shearwater for the summer to just keep everybody involved in the club.
"We have a brand new boathouse and sail store, with lots of security measures. It's all much, much safer than it was."
Retained firefighter Jess Hall, who was on call the night of the blaze and learnt to sail at the club, said the new facilities were "quite amazing".
"It was the hottest fire that I've ever been to," she said. "When we first arrived I was like, 'Oh my goodness, this is the sailing club'.
"Then [I thought], 'Oh dear, that's everything gone now'. The season had only just started as well and it put a stop to everything, so it's good that we're back."