Wiltshire home care services told to improve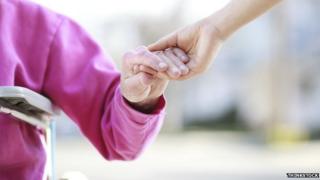 A firm that runs home care services in Wiltshire has been told that it must improve after a series of complaints.
The Care Quality Commission (CQC) visited Amesbury-based Mears Care Limited unannounced in June and July after it was contacted by 23 people.
The CQC report found standards were not being met in five areas including medicine management, staff training and support and quality of service.
The company said it had submitted an action plan to the CQC.
'Significant risk of harm'
The watchdog's report stated: "People had experienced late or missed calls. Some people were receiving visits from a variety of staff which meant there was little consistency of care.
"Some people required the support of two staff to support them during their visit but there were occasions when only one member of staff arrived to give assistance.
"This meant people were at significant risk of harm, as they were not receiving consistent support with their personal care, eating and drinking or taking their medicines."
The CQC attributed some issues to the fact that Mears had purchased two other agencies and were planning to purchase a third, meaning it had "had grown significantly in a very short time".
However, a number of people told the CQC that staff were "caring, considerate and attentive".
One person said: "They give 100%. They're respectful and understanding of how you feel."
Mears is one of four organisations contracted by Wiltshire Council as part of its Help to Live at Home service.
A Wiltshire Council spokesman said: "We are working very closely with Mears and the Care Quality Commission, as we do with all our providers, to ensure that people are being cared for appropriately."
The CQC is currently investigating to see whether the required improvements have been put in place by Mears.