Man charged following fatal car crash in Swindon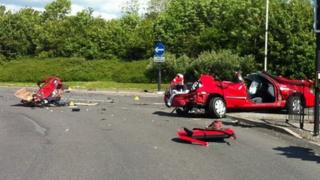 A man has been charged with causing death by dangerous driving after another man died in a crash in Swindon.
Paul Winters, 33, from Swindon, died and two others were taken to hospital - one with serious injuries - after the crash on Thamesdown Drive on 25 May.
Arnie Peter Rogers, of Saltash Road, Swindon, has also been charged with driving whilst disqualified or without a valid licence.
Two men were arrested, but the second man has been released without charge.
Police believe the cars were travelling in opposite directions before the crash outside the Orbital Retail Park.
Mr Rogers has been released on bail and is due to appear at Swindon Magistrates Court on 17 September.
A man in his 20s was a passenger in Mr Rogers' car and had minor injuries. He was released from hospital the same day.
The 61-year-old passenger who was travelling with Mr Winters was in a serious condition with internal injuries and broken ribs. He was released from hospital at the end of last month.