Rail regulator investigates Longleat Adventure Park train accident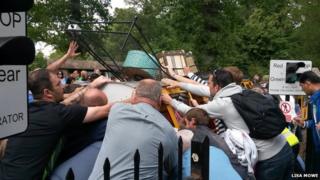 A miniature train accident at Longleat Adventure Park is being investigated by the rail watchdog, the BBC has learned.
Six people were hurt when the Jungle Express train derailed at the Wiltshire park on 20 August.
The Office of Rail Regulation (ORR) said a similar incident in September 2011 was not examined by them as it was not aware of it.
A Longleat spokesman said the ride would remain closed while the investigation continued.
Two carriages came off the track as the train - carrying 155 passengers - was coming into the park's main square
A woman suffered leg fractures and was airlifted to hospital after the crash.
The ORR regulates health and safety for the entire mainline rail network in Britain, as well as London Underground, light rail, trams and the heritage sector.
A spokesman said its remit also included monorails and added the Longleat railway fell within its jurisdiction as the track gauge is greater than 350mm (13.8 in).