Swindon recycling site fire: More smoke expected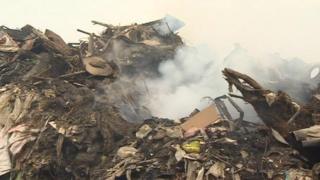 More smoke is expected from a Swindon recycling site that has been on fire for more than a month as "aggressive" tactics are used to put it out.
More than a dozen firefighters will unleash thousands of litres of water per minute on the blaze on Wednesday from 07:00 until 16:00 BST.
The tactics are expected to continue for several weeks.
Crews had to wait until waste had been removed from Averies in Marshgate before starting the operation.
The Environment Agency used its powers to start removing the 3,000 tonnes of waste because the operator failed to remove it.
A thousand tonnes has been removed and more will be taken during the operation, so fire crews can break down the stack of burning material.
The waste has to be spread out to cool before being deposited to landfill.
'Minimise disruption'
Ian Jeary, area manager at Wiltshire Fire and Rescue Service, said: "We are pleased that fire crews will soon be able to intensify their work and this marks a significant step forward in this inevitably long and complex operation.
"Significant quantities of waste have now been removed from the site and this essential process will carry on, as the aggressive fire fighting gets under way.
"I would like to take this opportunity to thank everyone for their patience and support during this difficult time, particularly those directly affected by the fire.
"Unfortunately the situation will seem worse before it gets better, but everything possible is being done to minimise disruption and bring this fire to an end."
Air quality will be monitored daily by Swindon Borough Council and Public Health England.
Residents and businesses nearby are currently advised to reduce their exposure, by closing windows and staying indoors, if affected by the smoke.
Anyone who develops symptoms should seek medical advice through their GP or call NHS 111.