Two free schools proposed for Swindon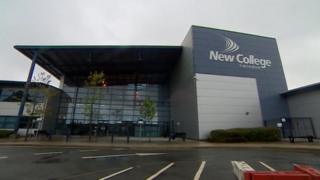 Two new free schools have been proposed for Swindon to help meet the growing population of the town.
New College Swindon is behind one of the applications with the Diocese of Bristol proposing the second, to be run with a Christian ethos.
If approved, both schools hope to be open by 2016.
Free schools are funded by the government but not controlled by the local authority. They are open to children of all abilities and faiths.
Paddy Bradley, from Swindon Borough Council, said the town had a population of about 214,000, but by 2026 it would be closer to 250,000.
"It's the job of the council to make sure there are sufficient school places, so by 2018 we need about another 200 places per year for Year Seven pupils," he said.
Graham Taylor, from New College Swindon, said free schools were the quickest way of opening a school.
"If the department [for education] likes the bid, they'll pay for the land, the building and the revenue stream for each student," he said.
"It's the quickest way of getting the town to where it wants to be."
John Swainston, from the Diocese of Bristol, said people would be pleased to know a Church of England secondary "would be part of the mix".
For either school to be successful and get funding, 700 parents must show their support for each school by October.