'Sexting' nurse Dawn Spatharakis will not be struck off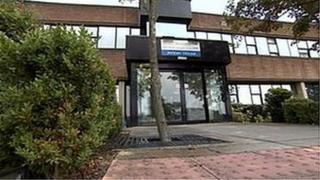 A psychiatric nurse who exchanged "explicit messages and photographs" with a sex offender has avoided being struck off.
At a misconduct hearing at the Nursing and Midwifery Council Dawn Spatharakis admitted forming an "inappropriate sexual relationship" with patient A.
She was also admitted accessing his records without a clinical reason.
Ms Spatharakis, of Swindon, was given a five-year caution notice - a reprimand - but is not prevented from practising.
'Anger management'
The hearing also found Ms Spatharakis's fitness to practise was impaired by reason of her misconduct.
Ms Spatharakis was employed by Avon and Wiltshire Mental Health Partnership NHS Trust in Swindon from May 2012 until 19 August 2013.
The hearing was told patient A, who had a history of abuse in his childhood and issues with anger management. was allocated to her case load.
But after leaving to work elsewhere she gave him her personal mobile phone number.
The panel was told patient A texted her asking to meet for coffee, which she initially declined.
Gave her £200
After an exchange of text messages the pair met and the relationship eventually turned sexual.
The hearing was also told patient A gave her "around £200" during the relationship and that she "reluctantly" accepted the cash.
Patient A later spoke to a police liaison officer who told the trust. Ms Spatharakis was suspended from the trust.
After disciplinary hearings she was dismissed for gross misconduct. An appeal against the dismissal was rejected, the hearing was told.
Lawyers acting for Ms Spatharakis had made an application for the proceedings to be heard in private in order to maintain the privacy of confidential information relating particularly to her health.
But the NMC considered the public interest in "open and transparent hearings outweighs your interest, save in, matters of your health".