Fire tackled at Oka furniture store at Froxfield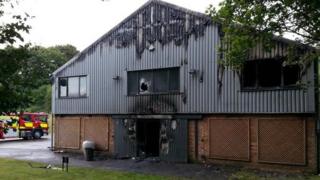 Thirty firefighters have been tackling a blaze at a luxury furniture store on the A4 in Wiltshire, close to the border with Berkshire.
Crews from both Wiltshire and Royal Berkshire fire and rescue services were called to the Oka shop, at Froxfield, just before 19:00 BST on Thursday.
In a statement, Oka Direct confirmed the fire caused "significant damage" to its "flagship store".
One crew remained at the scene on Friday morning.
Fire investigators will attend later to try to establish the cause.
Watch manager Conrad Jordan said: "The ground and first floor were fully engulfed in flame when the first appliances turned up.
"It's serious enough to have a knock-on effect on the business. It will be a little bit of time before they can get up and running again.
"Even though it's only one end of the building that's fire-damaged, the rest of the building is heavily smoke-logged and a lot of the stuff within may be considered unsalable."
In its statement, Oka Direct confirmed that no one was hurt or injured in the fire.
"We hope to be back trading as soon as possible and apologise for any inconvenience caused to our customers," it said.
"We would like to take this opportunity to thank the emergency services and all of our staff at Froxfield for their quick response and co-operation during this difficult time."
The company confirmed that the store's seven staff members would continue to be employed and paid "during this interim period"
"We look forward to getting Froxfield back on its feet and business returning to normal very soon," it added.