Men guilty of killing dog by hanging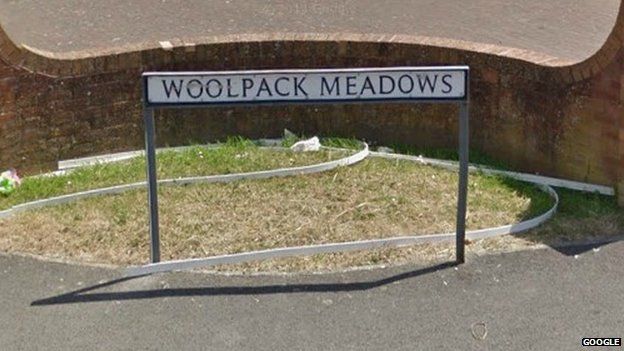 Two men killed a dog by hanging it from a rope at a house in Wiltshire because its owner did not want to pay to have it put down, a court has heard.
Jon Allen, 27, and Paul Brown, 52 pleaded guilty to jointly causing suffering to the collie-type dog called Shandy by hanging it.
The dog's owner, Veronica Reid, 42, pleaded guilty to aiding and abetting the hanging at her home in Trowbridge.
Salisbury magistrates adjourned sentencing until 15 September.
Sarah Wood, prosecuting on behalf of the RSPCA, said Reid, of Woolpack Meadows, had inherited the dog from an ex-boyfriend and looked after it with the help of her daughter.
She said Allen, also of Woolpack Meadows, and Brown, of Okehampton Road, Exeter, visited a vet in Trowbridge on 17 January to ask about having the dog put down because of its behaviour.
The vet told them they would need to bring the dog in to be assessed the next day but noted they appeared concerned at the financial cost, she said.
Ms Wood said: "Instead, the three defendants took matters into their own hands. And, the prosecution say, at the instigation and encouragement of Miss Reid, decided to hang the dog the next day."
She said the dog was hoisted by a noose around its neck from a rope hanging from the attic and took five to 10 minutes to die.
Brown, she said, checked to see if the dog was dead and punched and kicked the animal to the head to be sure.
The dog was then buried in the garden.
Ms Wood said the RSPCA found out about the killing after Reid told a neighbour how they got rid of the dog.
'Extraordinary circumstances'
She said there was a dispute between Allen and Brown as to which of them physically hoisted the dog, but both accepted being there and knowing what was going to happen.
Nick Redhead, defending Reid, said it was "an extraordinary set of circumstances".
He said the dog's temper had deteriorated, it had bitten visitors to Reid's home and had to be kept in a cage a lot of the time.
"Everyone in the household was frightened of it," he said.
Mr Redhead said Reid had made inquiries with the RSPCA about rehoming the dog but "as it was aggressive, rehoming slips down the league table of possibilities".
He said the cost of having the dog put down had swayed their decision as Reid felt it was "beyond her finances".
"The extraordinary plan to dispose of the dog was arrived at."
Related Internet Links
The BBC is not responsible for the content of external sites.