Fire clean-up at Swindon recycling site under way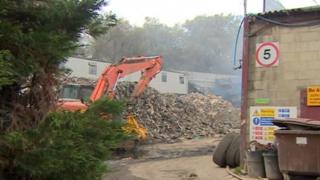 Contractors have begun moving 3,000 tonnes of waste from a recycling centre in Swindon which has been on fire for nearly a month.
The move will create more space allow to firefighters to tackle the blaze.
People living nearby have been warned that moving the waste would increase the amount of smoke from the fire.
Operator Averies was ordered by the Environment Agency to begin moving waste but it it failed to do so.
The waste is comprises mainly non-recyclable, commercial material.
'Full blast'
It is being checked and damped down as a precaution before it leaves the Marshgate site en-route to a landfill site at Chapel Farm, Blunsdon.
James Mahoney, from Wiltshire Fire and Rescue, said following enforcement action by the Environment Agency control has been taken of the Marshgate site.
"Work is under way to remove significant volumes of waste, which has precluded fire crews from being able to tackle the blaze full blast," he said.
"Inevitably, the smoke means things will unfortunately seem worse before they get better."