Food hygiene at Swindon's Great Western Hospital 'unacceptable'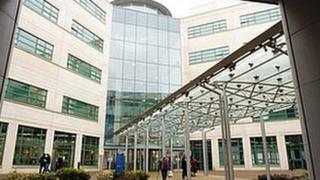 Food hygiene at Swindon's Great Western Hospital has been given an "unacceptable" one-star rating.
The Food Standards Agency gave Carillion, the company contracted to provide the meals, low marks for the way it stored food and recorded temperatures at the hospital.
The Department of Health said "urgent action" was needed.
Carillion general manager Graeme McClelland said improvements had already been made.
A spokesman for the Department of Health said of the rating: "This is not acceptable - patients have the right to expect food that has been prepared safely, in a clean environment.
"We expect the trust to work together with the local authority and take urgent action to address these serious failings in standards."
'Hoping for three stars'
Mr McClelland said: "To look at this in perspective, the environmental health officer didn't highlight there were any concerns that were putting patients at any immediate risk.
"Clearly there were some things we need to sort out. As part of our ongoing programme, over 100 members of staff went through retraining to ensure all of our people understand the importance of safety."
Julie Marshman, senior nurse for care quality and patient experience at the hospital, said: "We are not going to achieve five stars next time and I think it's important for the public to understand that.
"We are absolutely hoping for three stars."
A statement from Great Western Hospitals NHS Foundation Trust said it had good quality, modern facilities which were designed to meet the very highest standards of food hygiene, and "we will not accept anything less".
The trust said it was working with Carillion and The Hospital Company (its private finance initiative provider) to ensure improvements were maintained.