Woman arrested in Wiltshire children's nursery police inquiry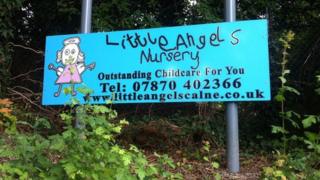 A 37-year-old woman has been arrested by police investigating a Wiltshire children's nursery.
An Ofsted notice on the gate at Little Angels Nursery in Calne said it was investigating "our belief that a child may be exposed to a risk of harm".
Wiltshire Police said the woman was arrested on Saturday and later bailed.
A statement from owner Rachel Cartmell said she and the nursery staff were "fully co-operating with the police" during the investigation.
Mrs Cartmell also confirmed it was not her who was arrested, but said she could give no more details on the inquiry.
Ofsted has suspended the nursery, which was given a rating of "good" at its last inspection, from registration until 25 September.
'Robust recruitment'
In a statement, Wiltshire Police said the woman - who has not been named - was taken to Melksham police station and staff from the privately-owned nursery, based on Curzon Street in Calne, were "in the process of informing all parents of the closure".
Beyond the Ofsted notice saying there could be a risk of harm, the nature of the investigation has not been revealed.
Officers said they were working "closely with the local authority" and advised any parents with concerns to contact social services.
The statement said: "We are in the early stages of an investigation and it would be inappropriate to comment further on this matter."
An Ofsted spokesperson said: "We have suspended this nursery's registration."
The notice on the nursery gate expanded on this, stating: "The purpose of the suspension is to allow time to investigate our belief that a child may be exposed to a risk of harm and for any necessary steps to be taken to eliminate or reduce the risk of harm.
"We will regularly review the situation and will stop the suspension within this period if we believe children are no longer at risk."
There are currently 78 children on the roll at the nursery whose nine staff working with the children had all "undergone appropriate vetting to check their suitability to work with children", according to May's Ofsted inspection report.
It said staff promoted "children's personal, social and emotional development effectively" and that children behaved well.
Ofsted said the owner/manager had implemented "robust recruitment processes" which ensured staff were able to show "strong knowledge and awareness of the policies and procedures for safeguarding children's welfare and are well trained to deal with safeguarding concerns".