Fire clean-up at Swindon recycling site to begin next week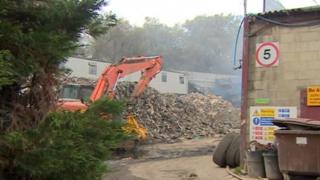 A clean-up operation at a recycling site in Swindon which has been on fire for nearly a month will begin next week, the Environment Agency has said.
The blaze at the depot started on 21 July, but efforts to put out 3,000 tonnes of waste have been hampered by compacted rubbish preventing access.
Operator Averies was ordered by the agency to begin moving waste on Saturday, but it failed to do so.
A spokesman said the operation would cost "a few thousand pounds".
Sally Coble from the Environment Agency said: "Our contractors will go in there this week and remove as much waste as the fire brigade need.
"As soon as they've done that the fire brigade can get on with fighting the fire. I should imagine it will take us a few days.
Ms Coble said they were still planning how to carry out the "complex job" and it will start "some time next week".
"We find it very, very frustrating when companies act in this manner," she added.
"We've given Averies every chance to help in remediating this situation but they haven't taken any action so far."
She added the Environment Agency would be reclaiming costs from the company.