Swindon man denies nine human trafficking offences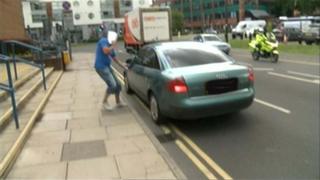 A man has appeared in court to plead not guilty to nine counts of human trafficking.
Nerijus Gudelevicius is accused of bringing nine people into the UK from Lithuania for exploitation and knowingly holding them in slavery or servitude, Swindon magistrates heard.
Mr Gudelevicius, 33, lives in Westlea, Swindon, but comes from Lithuania.
He was released on bail after the hearing and is due to face trial at Swindon Crown Court, next month.
The defendant advertised for Lithuanian nationals to come and work in the UK, prosecutors have alleged.
Once they arrived he took their passports and travel documents, housed them in appalling conditions in Swindon and forced them to work long gruelling hours for less than a living wage, the court was told.
Mr Gudelevicius denies the allegations saying that he was providing and facilitating employment.
The trial is due to start on 5 September.