Netheravon WW1 airmen tribute made with parachute drop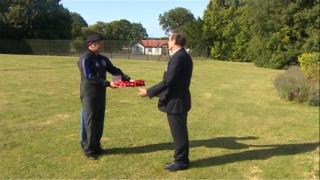 Two of the first casualties of the First World War have been remembered with a parachute drop of a wreath in a ceremony at a Wiltshire airfield.
Within days of the declaration of war, the Royal Flying Corps began deploying to France.
Lt Robin Skene and Air Mechanic Raymond Barlow were killed when a monoplane crashed on take-off at Netheravon Airfield on 12 August 1914.
Official reports described the plane as "heavily loaded for active service".
'Heavily loaded'
Lt Col Richard Miller, who attended the memorial service, said: "Raymond Barlow actually came from Grantham and was a very recently qualified air mechanic.
"His pilot, Lt Robin Skene, was a reasonably experienced pilot - they were the last to leave [that day] and sadly crashed on take-off."
Official reports from the time stated: "Evidently fallen almost vertically, but not from a great height. The controls were all intact. The machine was heavily loaded for active service, but was able to fly."
First air mechanic Arthur Frederick Deverill, of the Royal Flying Corps, saw the crash and told the inquiry: "The aircraft lost speed while banking.
"This was the first time the machine had been so heavily loaded, but if precaution had been exercised flight would have been safe.
"Several machines left that day with the same load. The monoplane was at the height of about 150ft or 200ft when it dived vertically to the ground. The engine was running at full speed until the fatal turn."
The pair, from 3 Squadron, were the very first airmen of the Royal Flying Corps to die in World War One.