Call for Averies fire rubbish to move to landfill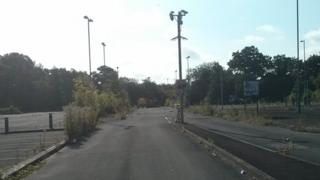 People living near a former park-and-ride site in Swindon where waste from a fire-hit recycling complex is to be moved want it sent to a proper waste management facility instead.
Fire crews have been unable to put the blaze at Averies out due its size and a lack of space to tackle the source.
Swindon Borough Council plans to shift the sodden waste to the former Groundwell park-and-ride site.
But people living near the site do not want the waste near their homes.
Paul Baker, Labour councillor for Penhill and Upper Stratton, said "they are moving the problem from once place to another", and local people are "not very happy".
He said residents want the waste sent to landfill instead.
'Ideal location'
The local authority said the waste cannot be taken to landfill or a specialist waste facility because the material belongs to Averies Recycling which is planning to transport the waste to the temporary site and take it back to its Marshgate site when the fire is fully extinguished.
It said the licence agreement which has been drawn up to facilitate the temporary storage requires Averies to cover the costs involved.
An Averies Recycling spokesperson was unavailable for comment.
A public meeting attended by representatives from Wiltshire Fire and Rescue Service, the Environment Agency and Swindon Borough Council was held on Friday.
About 100 people from the Groundwell area attended to express their concerns about the plan to move the non-hazardous waste close to them.
Council leader David Renard said the former park-and-ride site was an "ideal" location to move the waste to because it will not contaminate local water courses.
It is thought between 5,000 and 10,000 tonnes are still burning at Averies. The fire broke out 18 days ago creating large amounts of smoke.