Second Shrewton fake speed camera stolen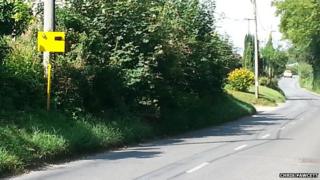 A second fake speed camera set up by villagers in Wiltshire to try to slow down traffic has been stolen.
Villagers in Shrewton, near Salisbury, who built the dummy camera said it helped slow down drivers who were flouting the 30mph speed limit.
An initial "camera" was made out of a wooden box but was taken shortly after it was installed and was later found burnt.
It was replaced with a new dummy camera, but now that has been stolen.
Villager Chris Fawcett, who put up the fake camera, said he had been undeterred by the thefts and would build another one.
"I will not give up," he said.
"We are saving people's lives You cannot walk down the road here without the fear of being hit by a vehicle."
He said he now planned to build a third "camera" out of sheet metal, which would be "quite heavy" and put on a scaffolding post.
Wiltshire Police said the "cameras" had been legal as they were on private land. The force said it understood the concerns of residents about the potential danger posed by speeding drivers.
Wiltshire Council said it had a "robust system" for dealing with speeding issues raised by local communities and would work with villagers to examine what could be done to improve the situation in Shrewton.