Concerns raised over Averies fire rubbish move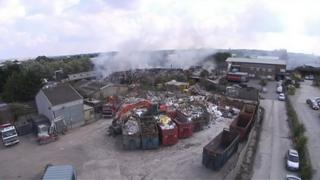 Concerns have been raised about moving water-sodden waste from the fire-hit Averies recycling complex to a former park-and-ride site in Swindon.
Fire crews have been unable to put the blaze out fully because of its size and a lack of space to tackle the source.
Swindon Borough councillor Joe Tray said it would be better to move the waste to a non-residential area.
The council said the former Groundwell park-and-ride site was chosen to avoid contaminating water courses.
Some 50 members of the public have protested outside the site calling on the council to think again about shifting the waste to the site near their homes.
Mr Tray, who is also a former firefighter, said: "I understand the situation the fire service is in - there is a mountain of rubbish that is on fire and they haven't got room to swing a cat there.
"They need to move it to extinguish it but why they need to move it from the Walcot area up to another area where it's residential and industrial is beyond me."
It is thought between 5,000 and 10,000 tonnes are still burning at Averies.
The fire broke out 17 days ago creating large amounts of smoke.
Leader of Swindon Borough Council, David Renard, said: "We needed to find a location where any run-off from the waste after the fire service deal with it, doesn't go into a water course and the park-and-ride location is ideal for that."
The council also said although the rubbish was sodden, it could still be smouldering so could not be put straight to landfill.
A fire crew will monitor the second rubbish site to ensure another fire does not break out there.