Stonehenge rat-run study begins after A344 closure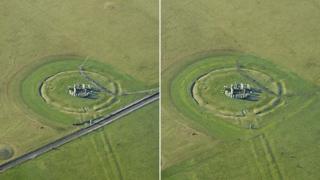 A 10-day long survey has started in south Wiltshire to track the movements of thousands of vehicles using roads near Stonehenge.
The aim of the Wiltshire Council study is to find out how many drivers use nearby villages as so called rat-runs.
Communities near the ancient monument have reported an increase in traffic since the road layout was changed.
A total of 15 monitoring sites have been installed using 32 cameras to track car registration plates.
Friday standstill
The worst affected villages are reported to have been Bulford, Shrewton and Winterbourne Stoke, since the A344 was closed and restored to grass.
Emma Woollard from Shrewton has set up a petition for a footpath in her village which so far has 250 signatures.
She said: "There's been three or four people who've been hit or clipped by wing mirrors in the past month which says to me, it's just going to get worse.
"On a Friday it is a standstill half the time because there are so many cars coming through."
The results will be compared with a similar survey carried out at the start of the year to see if any action needs to be taken.
The cabinet member for strategic transport on the council, Fleur de Rhe Philippe, said: "We will look at the computer models and look at how by doing various things - changing signage and road layouts - to make it better for the people."
She added the long-term solution was to dual parts of the A303, which goes past Stonehenge to the Westcountry. She denied the closure of the A344 had made traffic worse.