Royal Tank Regiment launched at parade in Wiltshire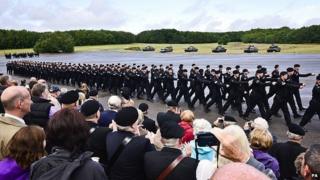 A military parade in Wiltshire has been held to officially mark the merging of two tank regiments.
The Royal Tank Regiment, which will be based in Tidworth, was launched during a ceremony to mark the joining of the 1st and 2nd Royal Tank Regiments.
Defence chiefs decided to merge the two in 2012 as part of a cost-cutting exercise and wider restructuring.
A parade at Carter Barracks in Bulford, showing off the regiment's hardware, was watched by hundreds of spectators.
Lt Col Nick Cowey, commanding officer, said it was "a day of both sadness and happiness".
"My main emotion today is about celebrating the Royal Tank Regiment and the huge honour as the sole remaining tank regiment to take forward its good name into the future," he said.
The new regiment will be comprised of 3 Main Battle Tank Squadrons - Ajax, Badger and Cyclops.