Averies Recycling fire in Swindon to be tackled 'more robustly'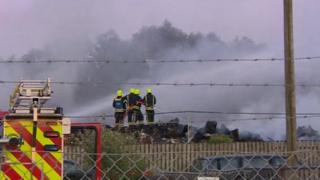 A fire that has been burning for 12 days at a Swindon recycling plant is to be tackled "more robustly".
The blaze at Averies Recycling depot started on 21 July but efforts to put it out have been hampered by compacted waste at the site preventing access.
Following a council meeting on Friday, it was decided half the unaffected waste should be removed from the site.
Chief fire officer, Simon Routh-Jones said it will enable crews to get at "the heart of the fire", on Monday.
The decision to take a proactive stance was made by Wiltshire Fire and Rescue, Swindon Borough Council and the Environment Agency (EA), on Friday.
Following the meeting, the EA said the site's operator had been asked to remove waste to "enable effective fire fighting".
"We are working with our professional partners to ensure extinguished waste is being safely removed from the site by the operator," he said.
Averies said it "felt desperately" for its neighbours and offered its "sincere apologies for the ongoing inconvenience".