Shrewton villager to fight fake speed camera removal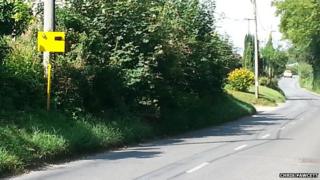 A man who put up a fake speed camera in a Wiltshire village, has pledged to put it up elsewhere even if he is forced to remove it from council-owned land.
The dummy device, made from a kitchen cabinet and a vehicle indicator bulb, was erected in Shrewton on 20 July to fool drivers into cutting their speed.
Chris Forsett, who put it up, claims the council has threatened legal action if it is not removed within a week.
The authority said Mr Forsett had been asked "politely" to remove it.
The device was put up on London Road which runs through the village, to slow down drivers who regularly flout the 30mph speed limit.
Mr Forsett said: "If it is on council land then we will move it but we will put it somewhere else.
"It's doing a good service here and I'm prepared to go to court about it."
A Wiltshire Council spokesman said the authority had asked Mr Forsett "politely" to remove it.
"We're more than happy to discuss the speeding issues and see if anything can be done to help the situation," he said.