10,000 WW1 soldiers remembered at Tidworth cemetery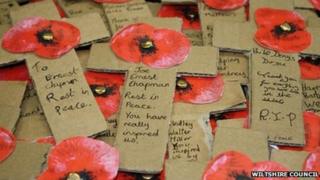 Every Wiltshire soldier who died during World War One is being remembered at a commemorative event.
School children made 10,000 cardboard crosses, one for each soldier, which will be placed on a wall of remembrance at Tidworth Military Cemetery.
Jane Scott, Wiltshire Council leader, said the wall would remind people of all those from the county who died.
Brig Piers Hankinson said it was "entirely appropriate" to remember the sacrifice of the soldiers.
"The British Army has had, and continues to have, an exemplary relationship with the people of Wiltshire and we (in the Army) consider ourselves extremely well supported," said Brig Hankinson, 43 (Wessex) Brigade.