'Extremely rare' staircase in Gloucestershire church to be made safe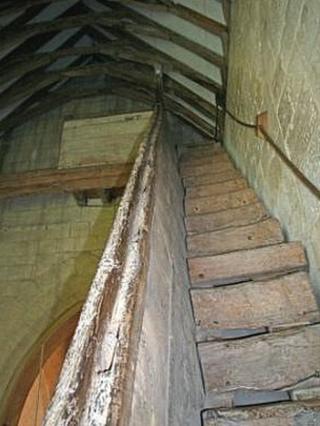 An "extremely rare" medieval oak staircase in Gloucestershire is to be made safe by work costing £49,000.
The 15th Century stairs, in St Michael and All Angels in Bishops Cleeve, are regularly used by bellringers and visitors to access the church tower.
The "rather perilous" looking stairs, with treads cut from solid oak logs, are thought to be amongst the oldest of their type in continuous use in England.
The repairs are due to start on Friday.
The staircase is described by the church's website as a "wooden affair" which is "as much a ladder as a staircase".
Hugh Harrison, a specialist timber conservator, said: "The structure is an extremely rare survival of medieval joinery and is of national importance."
Ann Jessop, head of the fundraising campaign to pay for the repairs, said: "Bellringers and other tower users have always felt very privileged to be regularly climbing the rare and special oak staircase.
"But we do not forget that the tower fell down in 1696 and we have to be vigilant to prevent any damage or deterioration."