Shrewton villagers set up fake speed camera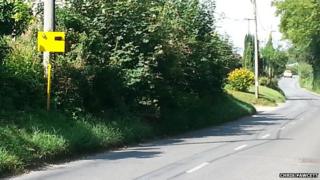 Residents of a Wiltshire village have set up a fake speed camera in an attempt to slow down traffic.
Villagers in Shrewton, near Salisbury, said drivers were flouting the 30mph speed limit past their houses.
They said the dummy camera fooled drivers into cutting their speed.
Wiltshire Police said the camera was legal as it was on private land. It said it understood the concerns of residents about the potential danger posed by speeding drivers.
Chris Fawcett, who lives off London Road and put up the fake camera, said: "If people can't look out for us, what we pay our taxes for, then we'll do it ourselves.
"We will do all we can to make our community safer."
'Huge difference'
Fellow resident Katie Cull said she felt the camera had made a "huge difference".
Wiltshire Council said it has a "robust system" for dealing with speeding issues raised by local communities.
It said it will work with the community to examine what speed control measures are appropriate for that particular road.