Averies Recycling apologises for fire inconvenience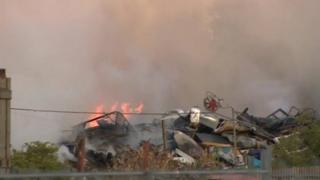 The company that runs the Swindon recycling centre where a fire has been burning for two days has apologised to local people.
About 1,000 tonnes of waste caught fire at Averies Recycling in Marshgate just before 18:00 BST on Monday.
In a statement, Averies Recycling said it offers its "sincere apologies" for the inconvenience the fire has caused to nearby residents.
Acrid smoke from the fire has forced some people nearby to stay indoors.
'Quick rate'
Owner Lee Averies said: "It's a very difficult time for people on site and our immediate neighbours and the wider community."
Initial findings have shown the fire started in a skip lorry on site but the cause is still unknown.
At its height, more than 100 firefighters worked overnight on Monday to protect a nearby storage site for gas cylinders.
Crews have remained on site to damp down the smouldering areas in the rubbish heap.
Averies Recycling said the "hot weather and initial delays" by firefighters in getting to the site worsened the situation.
It also said the fire "took hold at an alarmingly quick rate".
The company has previously breached Health and Safety Regulations 32 times.
Last year Averies Recycling was also fined £73,000 for allowing dust to escape from the site and for operating without an environmental permit.
The firm has said this site has a full licence to operate the waste transfer site at Marshgate.