Ex-PC Darren Jennings guilty of trying to sell story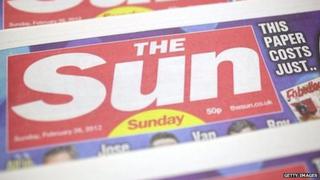 A former police constable has been found guilty of offering to sell a story to The Sun for £10,000 about a "womanising and bullying" colleague.
Darren Jennings, who worked for Wiltshire Police and now lives in Saffron Walden, Essex, had denied misconduct in a public office.
The story came to light after emails in the newspaper's database were trawled in the phone hacking scandal.
Jennings was found guilty by a jury at the Old Bailey.
'Threesome'
The court heard that the twice-married father of two contacted The Sun about his colleague Sgt Mark Andrews, who had recently been arrested for an assault in custody.
Using the pseudonym Robert Stone, Jennings sent an email to a journalist saying the married sergeant had affairs with colleagues, including a PCSO, a special constable and an ex-PCSO.
He alleged Sgt Andrews took part in a threesome with another male officer and a female police officer and regularly went to a strip bar in Salisbury, prosecutor Oliver Glasgow said.
The defendant also alleged that the sergeant used excessive force towards members of the public at Salisbury police station and on one occasion slammed a woman's head against a concrete floor, jurors were told.
Sgt Andrews was convicted at Oxford Magistrates' Court of assault occasioning actual bodily harm but that was later quashed on appeal.
'Compelling evidence'
Asking for £10,000 for the information, Jennings told the journalist: "I'm taking a massive risk in giving this information and have an enormous amount to lose by doing so if I am found out."
In cross-examination, Jennings was asked if the evidence against him "makes it look like you are guilty?"
Jennings replied: "The evidence against me does seem compelling evidence.
"Even though it is compelling, I will still stand here today, tomorrow, and next year and deny the allegations put before me, because I'm innocent."