Ex-PC Darren Jennings denies offering story to Sun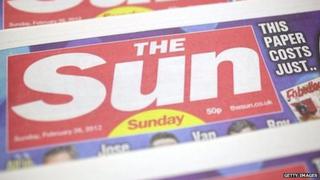 A policeman accused of trying to sell a story to The Sun has told the Old Bailey he is innocent despite "compelling" evidence against him.
Darren Jennings, 41, allegedly asked the newspaper for £10,000 in exchange for information about a "womanising and bullying" colleague when he worked as a Wiltshire Police constable.
Computer and phone evidence "all came back" to Mr Jennings, prosecutors said.
He denies misconduct in a public office and says he was "set up".
Threesome claim
Prosecutor Oliver Glasgow asked: "Don't you agree when you look at it and stand back, it does look like you are guilty, doesn't it?"
Mr Jennings said: "The evidence against me does seem compelling evidence.
"Even though it is compelling I will still stand here today, tomorrow, and next year and deny the allegations put before me, because I'm innocent."
He admitted he had made "a catalogue of errors" but said he was not guilty of the offence he was accused of.
Asked if he would name anyone who should be investigated to provide "evidence that might prove your innocence", the former officer said: "I will name every single person in Wiltshire Police."
Earlier in the trial, the jury was told Mr Jennings emailed the Sun under a false name with claims Sgt Mark Andrews had a threesome with a male and a female officer and used excessive force against members of the public at Salisbury police station.
No story was ever published.
The court heard Mr Jennings felt he was treated differently by Sgt Andrews after beginning a relationship with a colleague who later became the defendant's wife.
Mr Jennings also said other colleagues were "unhappy" with him and his wife working on the same shifts.
The trial continues.