Alton Barnes church gets Lottery funding for 'urgent repairs'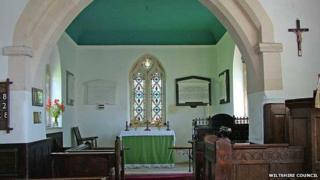 A church in Wiltshire has been awarded £188,700 of Lottery funding to carry out "urgent repairs".
The Grade I Listed St Mary's the Virgin Church in Alton Barnes needs urgent work to be done on the roof, walls and flooring.
The church, which dates back to the Saxon period, is considered one of the smallest in England.
A previous application for funding was turned down by The Heritage Lottery Fund in 2013.
The fund has announced it is giving more than £570,000 to help restore historic churches in the South West.
Nerys Watts, head of the fund in the South West, said: "Places of worship are among the UK's most historic buildings, with fascinating stories behind them.
"This money will pay for urgent repairs, whilst also helping to tell the stories of these special places to visitors.
"As a result the buildings themselves will be more used by the whole community, and properly cared for into the future."