Wiltshire PCC Angus Macpherson makes 'phased return'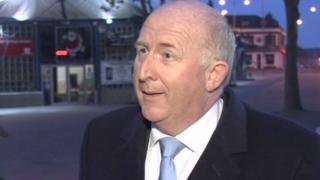 Wiltshire's Police and Crime Commissioner Angus Macpherson is making a "phased return to work" after a heart attack.
The 60-year-old was taken ill during a meeting in Trowbridge at the end of May and was flown to Bath's Royal United Hospital by air ambulance.
He was discharged last month and has since been recovering at home.
Mr Macpherson thanked his staff and Wiltshire Police and said he was "very pleased" to be back in his office.
"On a personal note I would like to thank the many people who have sent their best wishes," he added.
"I received excellent care from hospital staff and I have had a pacemaker fitted.
"There is much that I want to do, but I will have to follow doctor's orders."