River Kennet pumping reduction 'a major milestone'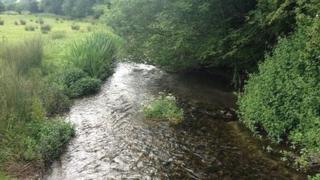 The amount of water being pumped out of the River Kennet might be reduced in a bid to protect it and its wildlife.
For two decades campaigners in Wiltshire have called for the action and believe a new Environment Agency proposal is a "major milestone".
Currently 3.66m cubic metres of water are pumped from the river each year, but the agency is proposing that it be reduced by 250,000 cubic metres.
The plan is expected to come into effect in April 2017.
New pipe plan
Thames Water holds two licences from the agency to remove water at two pumping stations; Axford (River Kennet) and Ogbourne (River Og).
At Axford, a new proposed licence would see the pumping total reduced to 3.41m cubic metres a year, with the agency also proposing to revoke the licence completely at Ogbourne.
It said the proposal was "part of a programme to help restore sustainable abstraction".
The chairman of the Action for the River Kennet group, Geoffrey Findlay, said: "This is the first concrete evidence of real progress to reduce water abstraction from the River Kennet, and represents a very important milestone."
The reduction in water removed, to provide drinking water for Swindon, will be supplemented by a new pipe from Farmoor Reservoir, according to the group.