Sex offender Abdelouaheb Delhoum sought by police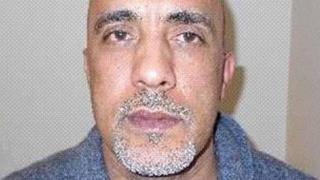 A convicted sex offender is being sought by Wiltshire Police after he broke his bail conditions.
Abdelouaheb Delhoum, 45, was convicted of a series of child sex offences on 1 May, including sexual assault and rape.
He was released on bail and ordered to return for sentencing on June 13, but has not contacted police since.
Delhoum, who is from Algeria and now lives in Oxford, is described as about 5ft 9in (1.75m) tall, of medium build and has a shaven head.
Anyone with information on his whereabouts is asked to contact Wiltshire Police.