Swindon murder investigation: Victim is named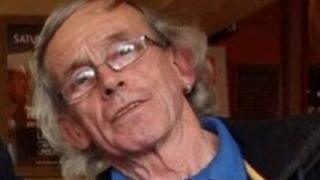 A man who died in "an extremely vicious" stabbing attack in Swindon has been named by police.
Aulton Thomas Rogers, 60, known as Tom, died from multiple stab wounds after an attack on a cycle path near the town's train station late on Thursday.
Mr Rogers worked at the Woodlands Edge pub on Midwinter Close and left there at about 22:30 BST on Thursday.
Police want anybody who saw him to contact them. They said there was "no apparent motive" for the attack.
Mr Rogers was not known to the police, and officers are now building "a bigger picture of his lifestyle".
Det Ch Insp Sean Memory, leading a team of Wiltshire Police officers, said it was a "challenging investigation".
"We know there were a number of people who were near to the scene," he said.
He added: "I am very keen to hear from anyone who knows of someone who sustained any injuries on Thursday night or who had blood on their clothing.
"If you have suspicions about someone please tell us. We can assure callers that information will be taken in the strictest confidence."
The dead man was found about 100m from the railway station entrance just after the underpass. A bicycle was also found at the scene.