Swindon leisure centres to be run by private firms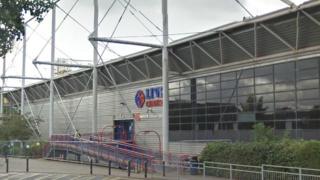 Swindon's leisure centres and golf facilities are a step closer to being run by private companies.
The borough council has agreed to transfer operation of the facilities, which cost the authority £1.4m a year to run, to two London-based firms.
Greenwich Leisure, which already runs Oasis Leisure Centre, will take over the town's other leisure centres, and Twigmarket will run its golf courses.
Councillors recommended the transfer at a cabinet meeting earlier.
Final approval on the decision to appoint the companies as preferred bidders is due to be made at a full council meeting on 17 July.
A spokesman said the transfer of facilities and staff could take place on 1 November.
The 25-year-lease agreement with Greenwich Leisure (GLL), includes a guarantee to keep the centres open for at least five years.
They include Croft Sports Centre, Delta Tennis Centre, Dorcan Recreation Complex, Haydon Centre, Health Hydro and the Link Centre.
There is an option to include Highworth Recreation Centre at a later date.
Twigmarket will run Broome Manor and Highworth golf courses with 25 and 15-year "keep open clauses" respectively.
Over the next three years the council needs to find £48m in savings.