Swindon leisure centres to be run by London companies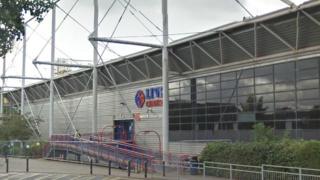 Two London companies are the preferred bidders to run Swindon's leisure and golf facilities, the council has said.
Last July, the borough council invited private companies to bid to take over its leisure facilities, which cost the authority £1.4m a year.
Greenwich Leisure, which runs the Oasis Leisure Centre, will take over the town's other leisure centres and Twigmarket its golf courses.
The council cabinet will debate whether to recommend the transfer, on 25 June.
Over the next three years, the council needs to find £48m in savings.
With a £4.3m backlog of maintenance work on its leisure centres, the council said transferring them "would ensure they have the best chance of remaining sustainable".
'Keep open clause'
Greenwich Leisure (GLL), which runs 140 facilities including the London Aquatics Centre, is earmarked to take over the town's six leisure centres.
The 25-year-lease agreement includes a guarantee to keep the centres open for at least five years.
Twigmarket, which operates Trent Park golf course in London, will run Broome Manor and Highworth golf courses with a 15-year "keep open clause".
"If we sat still and did nothing we would almost certainly be looking at closing facilities," said councillor Keith Williams.
If approved, the transfer of all facilities and staff could take place on 1 November.