Corsham police station recommended to be sold for housing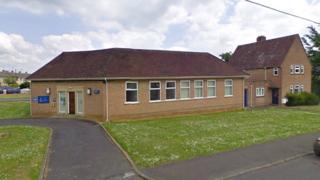 Officers have gone against the findings of a public consultation to recommend selling a Wiltshire police station to a residential developer.
Corsham Police Station, in Priory Street, is due to shut in July when police move to a new base in the town.
Police and crime commissioner (PCC) Angus Macpherson said he would take the public's views into account.
But, despite people "overwhelmingly" wanting a business to move in, a board is recommending it is sold for housing.
The two-storey building went on the market at the beginning of the year, attracting 11 separate bidders - nine of which are proposing a residential development.
But with concerns about a lack of parking in the area, many of the 25 respondents to the consultation said they wanted a business to take over the building.
'Exchange of contracts'
Despite the response, the Commissioner's Monitoring Board (CMB) has recommended the preferred buyer "in this case will be a residential developer".
"This recommendation does not accord with the preference of the majority of respondents," a spokesman admitted.
"However, the CMB members felt that the respondents had identified concerns about land use that would better be considered by the planning authority when a planning application is submitted by the would-be developer."
The PCC's office said it would be working towards an exchange of contracts but stressed no decision would be made until Mr Macpherson, who is currently on sick leave, returns to work.