Swindon Mela cancelled due to low funds, organisers say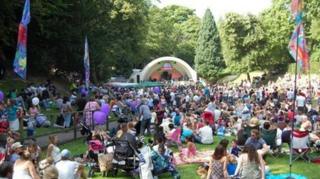 A lack of sponsors and reserve funds have forced the organisers of an Asian festival to cancel this year's event.
In recent years, the Swindon Mela has struggled with finding a large enough venue to cope with numbers and fundraising to keep the event going.
Chairman Jaz Bhui said: "I'm not happy to sign off an event when I know reserves are very low."
He also blamed spiralling health and safety fees. The Mela costs £55,000 to stage.
This year, organisers have said the low turnout from last year's event due to bad weather resulted in them losing money.
Mr Bhui added: "It's not all bad news, we are planning to host a smaller event, maybe a ticketed ball concert to fundraise at the same time so we will keep the Mela name going and we do promise people we will be back next year."
A Swindon Borough council spokesman added: "The council's responsibility is to make sure the event is safe, but the Mela is not a council event and all financial issues are a matter for the organisers."