Wiltshire CCG warns of £60m overspend in seven years' time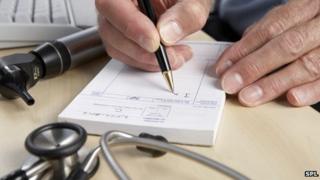 Health bosses in Wiltshire have warned of a £60m budget overspend by 2021 unless local NHS services change.
Wiltshire Clinical Commissioning Group (CCG) oversees primary care, such as GP surgeries, minor injury units and community services in the county.
Its chair, Dr Stephen Rowlands, said: "If we carry on doing what we're doing and have no increase in budget we will be £60m overspent by 2021."
A series of public meetings are being planned outlining the CCG's ideas.
'Very paternalistic'
Dr Rowlands claimed the budget overspend was due to increasing costs in looking after the ageing population whose healthcare needs grow as they get older.
He said that one strategy to save money would be to ask people to take personal responsibility for their health.
"When I started 30 years ago it was a very paternalistic organisation, and it was 'don't worry, I'll look after your health', now we have to say 'now I can give you the tools so you can look after yourself'."
He added that some of the ideas including developing strategies to tackle obesity and encouraging families or communities to support those in need of care.
"I'm not saying we're going to ration healthcare but it has to be used appropriately and judgementally," he said.
In Swindon, the local CCG group is trying to save £20m over five years to balance its books.
Wiltshire's CCG first public meeting is being from 09:30 BST at Marlborough Town Hall, Marlborough.