Ex Swindon leader Rod Bluh irked by Katie Hopkins slur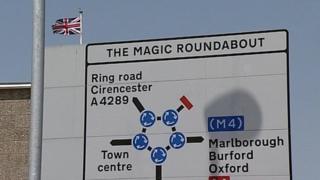 A former council leader has defended Swindon after it was called a "place no one cares about" in a newspaper.
Sun columnist Katie Hopkins wrote it would be cheaper for the government to house exiled cleric Abu Hamza's family in "ugly" Swindon, instead of London.
Former council leader Rod Bluh said it was "insulting" and the "220,000 people who live here care about the place".
Ms Hopkins said it had been used as "an example" of a "quite ugly" place where "not many people would like to live".
'Not picking on'
In her column, the former TV Apprentice contestant suggested housing the Hamza family in "a grotty semi in the rough end of town next to a roundabout and a KFC and everyone will be happy".
She said: "They can crack on doing Swindon-type things such as, erm, watching traffic, and the taxpayer can then save a bob or two."
Later, she told BBC Wiltshire she had not been "particularly picking on Swindon" but saying it would be a "very reasonable and economical place" to move the Hamzas.
"I had a lot of tweets saying people like Swindon and it was a lovely place to live but I also had a lot of tweets saying it's not that great and I wouldn't live there out of choice," she said.
But Mr Bluh said: "We know the Cotswolds and Wiltshire are prettier but more and more people are living here every year and it shows she hasn't taken the time to find out what the place is really like."