Conservatives hold Swindon and increase majority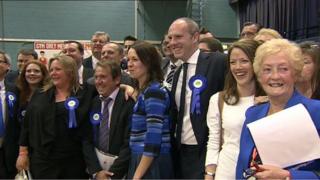 The Conservatives have held Swindon and increased their majority at the expense of Labour.
The final make-up of the council is Conservative 30, Labour 23 and the Liberal Democrats 4.
The Tories increased their majority by three.
UKIP came second in many wards and, according to BBC Political Editor for the West of England Paul Barltrop, "crucially hoovered up Labour votes".
Justin Tomlinson, Conservative MP for the Swindon North constituency said the night was "unbelievable".
"I've been coming here 14 years and this is probably the best night we've ever had," he said.
"We've racked up record wins in some of the most important wards. We've gained a seat from Labour.
"And in a seat that they threw everything and the kitchen sink at, we won by over 300 votes. I'm just ecstatic."
The seats were last contested two years ago.
Mr Barltrop commented that Labour "knew it would not be easy but they did not expect to go backwards".
"It was generally a plague on all your houses," said Councillor Jim Grant, Labour group leader in Swindon.
"We lost votes to UKIP in the target seats and that's cost us.
"I don't think people are going to UKIP for their policies necessarily, but it's largely a disaffection with mainstream political parties."
UKIP won no seats but plenty of votes.
Mr Barltrop added: "If they can repeat it, next year's general election will be hard to predict."